Schutzhund dog training, also referred to as International Prufungorden (IPO) training, is a popular three-part sport used to heighten a dog's tracking, obedience and protection skills. These honed abilities equate to a near perfectly trained dog. But there are some things one needs to understand prior to getting involved in the sport. This Schutzhund training guide will introduce the basics, explain what to expect and review the best Schutzhund training equipment to use when starting out.
What Is Schutzhund Training for Dogs?
Schutzhund is a German term that translates to "protection dog." It is a dog sport and method for developing canine traits that aims to enhance and evaluate the traits that make dogs more valuable and joyful companions to their owners. Schutzhund dog training typically focuses on three areas: tracking, obedience and protection work.
Wondering what breeds can do Schutzhund? While the Schutzhund trials (breed evaluation tests) were originally developed specifically for German Shepherds, other dog breeds can also be admitted and partake in the training. The working Schutzhund trials measure a dog's endurance, trainability, structural efficiencies, mental stability, scent tracking, courage and overall willingness to work.
The sport aspect of Schutzhund training offers dogs and their owners the opportunity to train and compete for recognition of the dog's ability to perform and the owner's ability to train. This type of training is one of the highest forms of training a dog can receive. While it is a major commitment, both financially and time-wise, you'll find that Schutzhund training is more than worth the effort in the end.
Keep in mind that this article is just an introduction to Schutzhund dog training and should not be considered an exhaustive guide.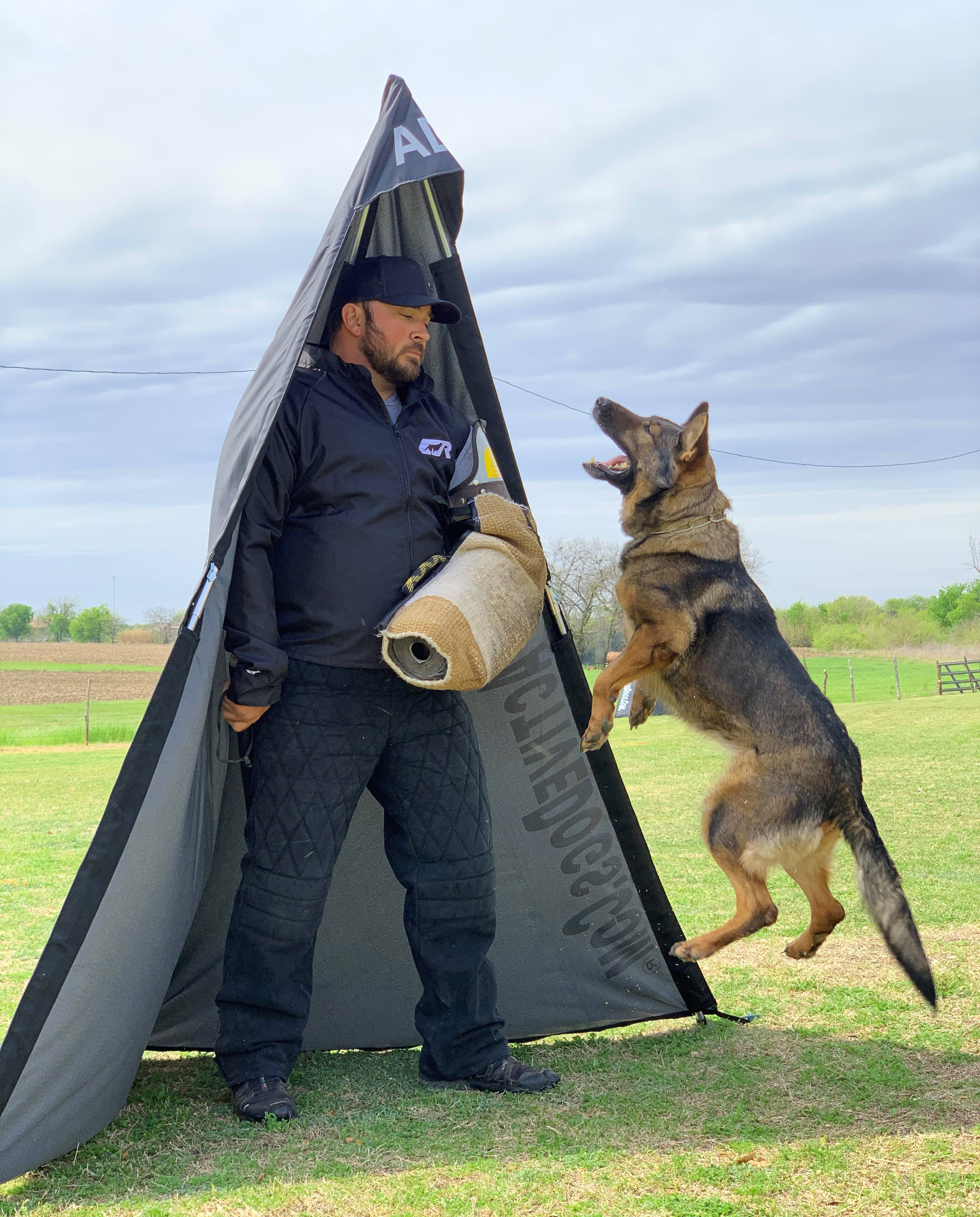 What Are the Levels of Schutzhund Dog Training?
As we've mentioned, training is typically broken up into three Schutzhund levels: tracking, obedience and protection.
Tracking. This phase is intended to test your dog's overall trainability and potential to scent track, as well as its physical and mental endurance.
Obedience. The obedience phase of training and exercise is used to test your dog's temperament, structural efficiency and willingness to serve/work.
Protection. This final phase tests your dog's overall courage, physical strength and agility. At this point, the handler's ability to control their dog through Schutzhund training commands is essential.
How to Find a Club that Fits Your Lifestyle
When first starting out, you'll need to do your research to find a local Schutzhund club that fits your lifestyle and that will be able to train those new to Schutzhund. Each club is different, and finding one in which you and your dog are comfortable is important. You'll usually be with a Schutzhund club for two to three years. So, it's important to get acquainted with the club prior to committing.
Keep in mind your personality and character also have to be the right fit for the prospective club's member standards. Clubs typically look for the following in new handlers:
Respect for both dogs and people
A willingness to learn, grow and train through all three Schutzhund levels
Resilience and emotional stability
Responsibility and trustworthiness
The ability to work well with others as part of a team
A willingness to take constructive criticism and learn from it
Independence
Why You Need to Find a Mentor That's Right for You and Your Dog
Once you've found a club for you and your dog, you'll need to find a mentor that can teach Schutzhund in an enjoyable way. Each mentor is different and brings with them their own style and methods. If you plan on competing with your dog, find a trainer with a focus on trials and competition. If you simply want to hone your dog's skills to make them a better companion, seek out a mentor that focuses on obedience and loyalty.
By teaming up with a mentor that shares your goals and values, you and your dog are more apt to enjoy and benefit from Schutzhund dog training.
The Importance of Getting to Know Your Dog
While knowing your dog and bonding with them is always an important aspect of pet ownership, it's even more important when it comes to Schutzhund training. By getting to know your dog, you'll both better enjoy training and understand how the handling and teaching are progressing.
Part of this step is determining your dog's triggers, as well as which treats and toys they enjoy. This will make training much easier and help you to always be prepared. If a dog doesn't like the treats you're providing during sessions, they're much less likely to put forth the effort and retain anything. So, take some time to research the best toys for active dogs to find the right choice.
During training, if something doesn't feel quite right, speak up and ask questions. There are no dumb questions when learning. Bad training will only reinforce bad results.
Know That Patience Is Key
Schutzhund training is tough, both for the dog and the owner. Don't let you or your dog become discouraged. Younger dogs' attention spans are short but will get better over time. Take breaks, keep sessions short and have fun.
Patience is key when working on Schutzhund training commands. Ensure your commands are clear and loud and keep distractions to a minimum until your dog is ready. By creating a good, solid foundation, your dog will successfully complete their training and retain their learned commands.
Types Of Schutzhund Training Equipment You'll Need
The following is a list of recommended Schutzhund training equipment. You may not need it all at first, but over time, it's good to have these items at the ready to make sure your dog is in peak shape. Please note that this list is in no way exhaustive.
---
Schutzhund dog training is a long and rewarding journey. You're going to have days where you and your dog become frustrated. You'll feel like giving up. But persevere. When you have that breakthrough moment, you'll find that all that hard work was well worth it in the end.
Shop Active Dogs for the Best in Schutzhund Training Equipment
Now that you've read our Schutzhund training guide, you at least have an idea of what to expect. Shop Active Dogs for a wide selection of Schutzhund training equipment, toys, treats and more. We understand how much your dog means to you — it's why we've curated only the best products on the market. If you have a question or need additional information about our selection of Schutzhund training equipment, contact our customer service department today.